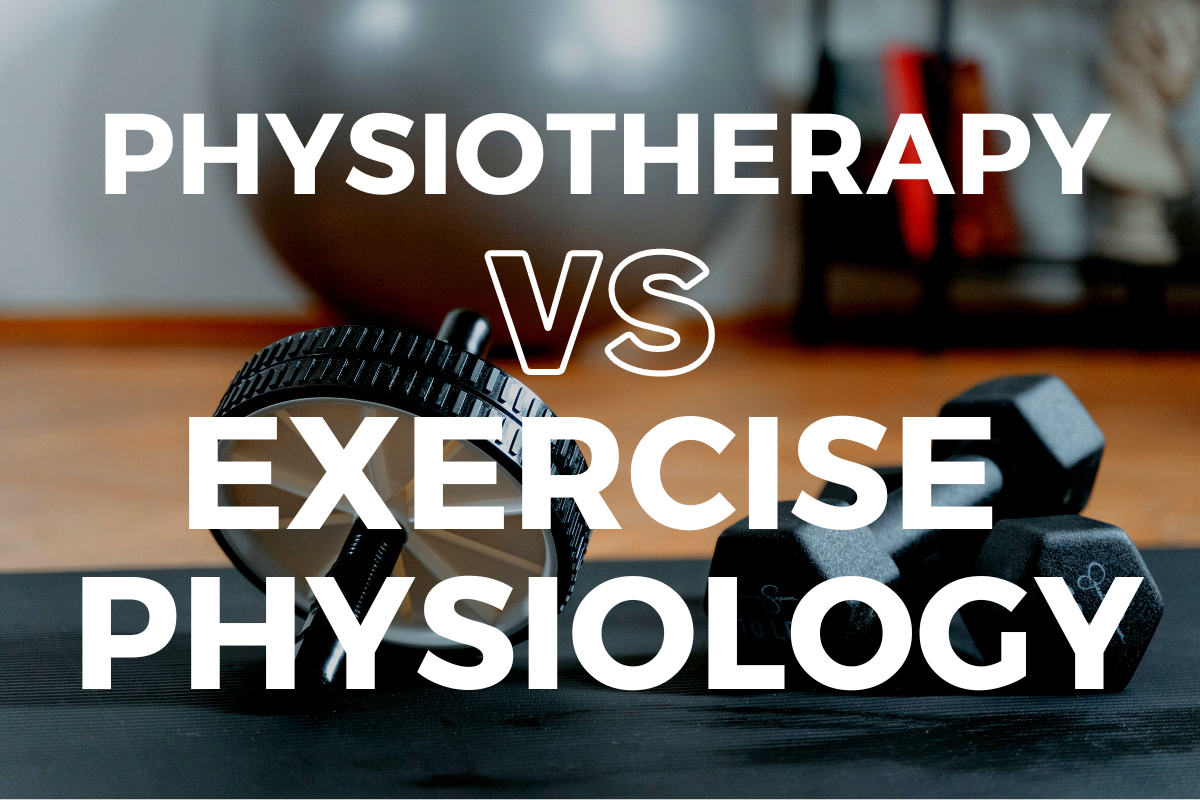 What is the Difference Between Physiotherapy and Exercise Physiology?
Most of us have heard of Physiotherapists, Nutritionists, Massage Therapists and Personal Trainers, and we have a pretty good understanding of what they do. For many people, though, Exercise Physiology is a health profession they have yet to hear of or need to learn more about, and they often confuse it with Physiotherapy.
Physiotherapists and Exercise Physiologists have similar end goals in treatment; however, the treatment path to recovery will be different. Both professions work a varied scope of practice that can overlap, so some confusion exists.
It's essential not to get roped in by buzzwords or internet gimmicks when it comes to your health. Both Exercise Physiologists and Physiotherapists are university-educated health professionals you can trust to have the knowledge, qualifications and skills to best care for you and your body. But remember that it's always beneficial to understand which health professionals can help you in the best way possible.
They're both professions you can trust, and their scope of practice can overlap, so what's the difference between Physiotherapy and Exercise Physiology? And how do you know who to see?
WHAT'S THE KEY DIFFERENCE BETWEEN PHYSIOTHERAPY AND EXERCISE PHYSIOLOGY?
We will be going into detail about each profession, but let's first walk you through a brief overview. Exercise Physiologists treat patients using clinical exercise interventions and programs: they prescribe exercise as medicine. In contrast, Physiotherapists assess, diagnose, treat and manage injuries, disabilities and pain with hands-on treatment and exercise prescription. Often a Physiotherapist will refer patients to an Exercise Physiologist as part of an ongoing treatment program.
Knowing whether you should visit a Physiotherapist or an Exercise Physiologist for your condition can be confusing. We can refer to the different stages of the injury cycle to determine which profession would be the most beneficial for your treatment. Let's understand each domain better before we explore the injury cycle more deeply.
WHAT DOES A PHYSIOTHERAPIST DO?
A Physiotherapist assesses, diagnoses, treats and manages conditions, disabilities, injuries and disorders that affect the movement and function of your body. Many people visit a Physiotherapist if they've sustained an injury or illness that prevents their everyday activity.
Some people believe that Physiotherapists mainly work with back and sport-related injuries, but this is only sometimes the case. They also treat those suffering from physical problems due to illness, disease and ageing. Physiotherapists use physical techniques to improve movement, restore function, reduce pain and stiffness and recover from injury. Some examples of physical treatment methods include:
joint manipulation and mobilisation to reduce pain and stiffness
soft tissue mobilisation/massage
exercise and rehabilitation programs to help improve mobility and strengthen muscles
dry needling
Your Physiotherapist may also give behavioural advice, health education and exercise counselling. They're qualified to treat a range of conditions to do with the bones, muscles, nerves and joints, including:
neck, back and knee pain
general, work or sport-related injuries
chronic pain and conditions
rehabilitation post-surgery
bone, joint, muscle and ligament problems
Patient education is an essential part of a Physiotherapists job. Ensuring clients understand their condition and treatment program is crucial to an effective recovery.
WHAT HAPPENS DURING A PHYSIOTHERAPY APPOINTMENT?
Your appointment with a Physiotherapist generally starts by getting to know you and your injury or condition. You'll be asked questions about how you got hurt and what movements or activities make your pain worse and better. Your personal goals are just as important, so don't be surprised by a range of questions during your consultation. Your injury and capabilities will be assessed through a physical examination. This information will help your Physiotherapist diagnose your injury and create a treatment plan.
WHAT DOES AN EXERCISE PHYSIOLOGIST DO?
Exercise Physiologists are university-qualified allied health professionals who specialise in prescribing exercise and movement programs to help prevent and manage chronic diseases and injuries by enhancing optimal physiological functioning. During the rehabilitation process, Exercise Physiology programs help restore functionality and bring relief from pain and discomfort. There can also be a strong focus on behavioural and lifestyle change and self-management concepts to improve the overall quality of life and well-being.
Exercise Physiologists treat clients who suffer from medical conditions and injuries such as:
musculoskeletal injuries
obesity
diabetes
arthritis
high blood pressure
osteoporosis
cancers
mental health issues
neuromuscular diseases
chronic pain
heart disease
Exercise Physiologists also work with recreational and elite sports people, developing targeted programs to improve athletic potential to enhance performance. Being in top physical condition isn't just crucial for performance outcomes but also vital for minimising injury risk.
WHAT HAPPENS DURING AN EXERCISE PHYSIOLOGY APPOINTMENT?
In an initial appointment, your Exercise Physiologist will start by getting to know you. They'll ask you questions about your current health, physical capabilities and previous exercise history. It's essential to know your health and exercise goals to create an achievable program that aligns with your objectives. Generally, your Exercise Physiology sessions and home-based programs can include:
stretching and mobility movements
strength and core training
recommended cardiovascular exercise
practising and modifying technique
SHOULD I SEE A PHYSIOTHERAPIST OR AN EXERCISE PHYSIOLOGIST?
Now that we've gone into depth about both practises, you can start to see the similarity and difference between physiotherapy and exercise physiology. So how do you know who to see? As we mentioned previously, for those suffering an injury, we can refer to the different stages of the injury cycle to determine what treatment path is best and most efficient.
There are four stages to the injury cycle; let's take a look:
Acute – protection
Sub-acute – repair
Late – remodelling
Final – ongoing repair and remodelling and return to activity/function
Physiotherapists work across all phases of the injury cycle. The acute stage directly occurs after an injury has been sustained. Common symptoms can include pain, swelling, redness and loss of function in the area. Visiting a Physiotherapist in this phase is the most beneficial and effective. Early intervention is vital to shorter recovery times and, in most cases, better outcomes. They'll assess, diagnose and develop a program for you to commence your recovery and rehabilitation.
Exercise Physiologists work mainly with those in the mid to late stages of the injury cycle. They help prepare these people for a return to the activities and exercises they love as safely as possible. They also work with those suffering from chronic diseases, helping preserve or restore function. Additionally, they can work with you to develop a strength and conditioning program to help take your fitness to the next level.
We've created a checklist if you're still confused about the difference between physiotherapy and exercise physiology and which one will best be able to treat you. See below:
REASONS TO SEE A PHYSIOTHERAPIST:
Experiencing pain that is new, unexpected or hasn't yet been diagnosed
Sustained a sports injury
Recently undergone orthopaedic surgery
Hands-on treatment such as dry needling, mobilisation or massage
REASONS TO SEE AN EXERCISE PHYSIOLOGIST:
Recovering from injury or surgery
You have an old injury that you're worried about aggravating
Improving your life with a chronic health condition
Managing life with a disability
You have a weight loss goal
NEED A PHYSIOTHERAPIST OR EXERCISE PHYSIOLOGIST? BOOK IN WITH PIVOTAL MOTION TODAY!
If you want an exercise program to meet your health and wellness goals and needs, at Pivotal Motion, we offer both Exercise Physiology and Physiotherapy Brisbane services to complement each other during your treatment.
Access our online booking platform which books appointments with our Physiotherapists for specialised and everyday physiotherapy, as well as with our and Accredited Exercise Physiologists.
If you're still unsure, give our Newmarket reception team a call on 3352 5116 or email admin@pivotalmotion.com.au, and we can assess the best treatment option for you.
More about Exercise