Alvin Lim is a valued Physiotherapist at Pivotal Motion Physiotherapy. Alvin brings a decade of experience as a physiotherapist having graduated from the University of Melbourne in 2011. Alvin is available at the Newmarket clinic on Wednesday afternoon and Saturday mornings.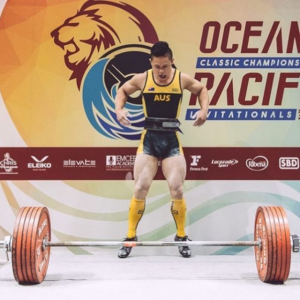 Alvin is skilled in orthopaedic surgery rehabilitation, sports medicine, and strength and conditioning. In particular, Alvin has had extensive experience with powerlifting, both professionally and personally.
As a clinician, he has worked closely with the Australian powerlifting team; personally, he has competed at the international level, having represented Australia in various countries including Uzbekistan and Singapore. He has held multiple International Powerlifting Federation (IPF) and Oceania Powerlifting Federation (OPF) national and oceanic records in the men's Open U74kg division, including a deadlift of 282.5kg and a total score of 680kg!
Alvin's philosophy of care is centered around improving quality of life for the patient. Whether that's breaking the next world record or being able to run with the kids, Alvin believes in a goal-orientated approach, treating the person and not just the injury.
Alvin's life outside of Pivotal Motion
Alvin recently moved up from Melbourne to pursue a career in medicine. He is currently studying a Doctor of Medicine (MD) at the University of Queensland.
When he's not studying, Alvin enjoys coffee (except it has to be Melbourne coffee), discussing philosophy, reading depressing novels, and getting dragged by his wife every Sunday morning at 5:30am to train for the next marathon.
Alvin has an in-depth knowledge in strength and conditioning, for advice on how to best start at the gym or how to progress an exercise book an appointment with Alvin today!