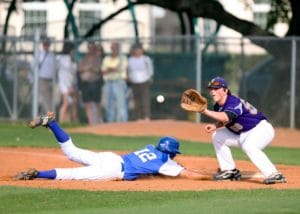 Pine Hills Lighting Baseball Club was established in 1984 in Brisbane, which had originally been known as the Mitchelton Unicorns until the name changed in their tenth years.  The club had a serious issue of losing senior players as they had no team in the Senior's competition.  However, a decision merging with the All Stars Baseball Club made in 2004 enabled them to stay in the club with the secure of sufficient number of players as well as the level up of the whole club.
Pine Hills Lighting Baseball Club has now around 250 members throughout all age groups from 6 years of age all the way up to the senior and master grades.  Whist baseball is still a minor sport in Australia, the number of players in the club have been steadily growing over the years thanks to the several dedicated families who have worked to develop the training environment.  Some of the players are keen to play in the Major League Baseball and this club has built a position as a first step for the goal.
Located on the Jinker Track in Bunya it is a part of a sporting precinct that services that region.
Lightning Development Program
Pine Hills is a club that actively develops its youth.  Pine Hills Baseball Academy for U14, U16 and U20 players is aiming at enhancing skills necessary for pitcher and catcher.  Additionally, Spring Training Academy that cater for improvement in strength and conditioning is ran by the Brisbane Bandits coaches and players.
Our involvement
Pivotal Motion Physiotherapy has become a sponsor of Pine Hills Lighting Baseball Club for the 2017 season.  It confirms our commitment to the general community via our sporting clubs.  As baseball physiotherapist we treat a variety of sporting injuries including throwers elbow, shoulder impingement and the sporting hand.
Baseball players of Pine Hills have reduced prices for services at Pivotal Motion. Make an appointment online or call us on 07 3352 5116.