That's our team – Brisbane Bandits
06/02/2017 Pivotal Motion

That's our team – Brisbane Bandits
LOCKED IN. #YEAROFTHEBANDIT #BackToBack

Posted by Brisbane Bandits on Saturday, 4 February 2017
Brisbane Bandits has been successful in making it back to back ABL finals.
Pivotal Motion Physiotherapy, proud physiotherapy clinic to the Bandits, are excited to see how the boys make this season their own.
Well done Bandits!!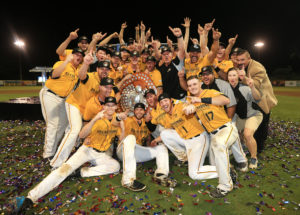 If you love baseball as much as our primary physiotherapist Bobbie-Jo, and want some advice on getting back onto the field come see us today. Book an appointment online or call our friendly staff on 07 3352 5116.
Recent blog posts
How to Recover Properly in the Gym
Squishing those Gym Myth's
Why an Effective Recruitment Pattern is critical in avoiding movement injuries
How to ensure you don't overload while exercising!
How to progress in the gym