Brisbane Bandits have epic win against Perth Heat
20/01/2017 Pivotal Motion

What can we say?  How awesome was it to see the Brisbane Bandits win against Perth Heat.  It was a home run by Logan Wade in the nineth innings that resulted in the 3-2 win.  This is why we look after sporting teams – such a clincher! Pivotal Motion Physiotherapy was proud to have been there with physiotherapy support.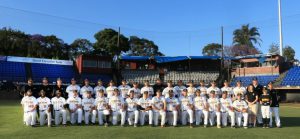 Are you looking for someone to discuss all things baseball? Bobbie – Jo our Primary Physiotherapist at Pivotal Motion is your girl. Book an appointment online or call us today on 07 3352 5116.
Recent blog posts
How to improve lower limb injuries in kicking sports
Common lower limb acute injuries in kicking sports
The importance of hip adductor strength for kicking and acceleration in soccer players
The effect of swimming and aquatic exercise on the body
How training gluteal muscles can improve your running