Brisbane Bandits have epic win against Perth Heat
20/01/2017 Pivotal Motion

What can we say?  How awesome was it to see the Brisbane Bandits win against Perth Heat.  It was a home run by Logan Wade in the nineth innings that resulted in the 3-2 win.  This is why we look after sporting teams – such a clincher! Pivotal Motion Physiotherapy was proud to have been there with physiotherapy support.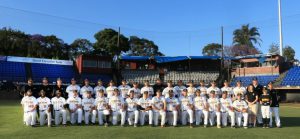 Are you looking for someone to discuss all things baseball? Bobbie – Jo our Primary Physiotherapist at Pivotal Motion is your girl. Book an appointment online or call us today on 07 3352 5116.
Recent blog posts
Barefoot vs shoes running - which is the best form?
Developing the cardiovascular system
Get the most out of running!
Exercises to help with running
Could your posture be the cause of your chronic pain?