Queensland Pirates Volleyball

The Queensland Pirates have a long and successful history in the Australian Volleyball League. They've had repeated success in recent years. This has seen them cement themselves as a force to be reckoned with in the Australian Volleyball League (AVL). Pivotal Motion Physiotherapy is proud to be the QLD Pirates physiotherapy clinic of choice.
2018
Men's AVL Champions
2017
Men's AVL Champions
2016:
Men's – AVL Champions
Women's – Silver Medallists
2015:
Men – AVL Silver Medallists
Women – AVL 5th Place
2014:
Men – AVL Champions
Women – AVL Bronze Medallists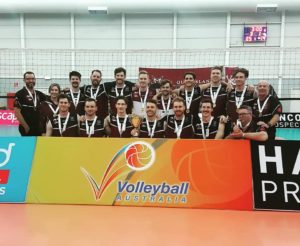 Our Physiotherapy Involvement In Volleyball.
2014 was Pivotal Motion's first season joining the Queensland Pirates. This saw dual success for the mens and womens teams. Dylan Preston; previously a physio at Pivotal Motion was the physiotherapist for that campaign. In 2015 he continued working with the Pirates. The Men fell just short of the triple crown. 2018 sees Pivotal Motion once again join the Queensland Pirates team. 2018 was another year of success for the state under the physiotherapy guidance of Bobbie-Jo Strong in Melbourne.
Pivotal Motion provides on-court support to the Pirates as well as extensive work behind the scenes. We see many of the Pirates players in clinic for ongoing management. It is this continued treatment that is responsible for keeping players injuries free during the season. Book an appointment online or call the clinic on 07 3352 5116.