Brisbane Bandits Baseball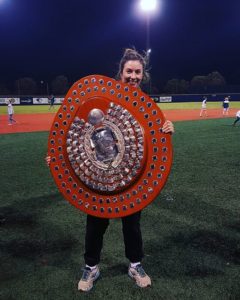 Bobbie-Jo Strong, Pivotal Motion's Prinicpal Physiotherapist is the Brisbane Bandits Physiotherapist. The Bandit's are Bobbie-Jo's first national level team. Bobbie-Jo has been the Brisbane Bandit's Physiotherapist for the previous 4 seasons. Bobbie-Jo played a part in the Bandit's 2015/16, 2016/17 and 2017/18 ABL season wins; bringing the Claxton Shield to Brisbane. It was the first Claxton Shield win in 2016 for the Bandits since 2006.
The team is a combination of local talent and players on loan from Major Baseball League teams. They represent Queensland in the Australian Baseball League. The current manager is David Nilsson and the CEO Mark Ready. The Brisbane Bandits home ground is Holloway Field in Newmarket, QLD. Crowds of 1,500 so close to the pitch make for an electric atmosphere. Walk out music, the Bandit's mascot and home runs galore all contribute to family friendly and action packed viewing.
Our Physiotherapy involvement with the Bandits
Pivotal Motion Physiotherapy provides the medical support for the Bandits team at home and away, making sure they are able to perform on the pitch against the best Australian baseball has to offer. Physiotherapy services are provided at training or games and our staff travel over Australia on tour with the team during competition season. If you are lucky you might catch the boys in clinic one day as they get some one-on-one attention from the physios. Averaging only 1 DL list per season this sports physiotherapy clinic has a solid strikeout rate.
Our work with the Bandits team also brings us into contact with some of the best young talent that is being raised in Brisbane and the surrounds. Some of the clinics patrons include young men who are excelling in Baseball and we have had some even play in the U18 Australian team.
The 'Most Wanted' are the Brisbane Bandits membership base. Famous for being some of the loudest fans in the ABL. You may have seen the big yellow Dodge driving around Newmarket or parked at Newmarket Village shopping Centre? Memberships are available for the 2017/18 season as Bobbie and the Bandits aim to go for repeat.
Pivotal Motion Physiotherapy are proud supporters of local sporting teams and athletes. Book an appointment online or call us on 07 3352 5116 to speak to our friendly team.